Options à configurer pour Excel 97 US
Comment atteindre ces options?
Dans le menu de la barre d'Excel, sélectionner Tools/Options.
Options Excel, onglet "General"
Recent files list = 9
Sheets in new workbook = 3
Default file location = C:\My Documents\Excel (L'emplacement des fichiers Excel
User name = Saisir le nom de l'utilisateur, Ok
Options Excel, onglet "Edit"
Edit directly in cell
Allow cell drag and drop
Alert before overwriting cells
Move selection after Enter, Direction = Down : La direction après la touche Enter
Options Excel, onglet "View"
Options Excel, onglet "Calculation"
Options Excel, onglet "Custom Lists"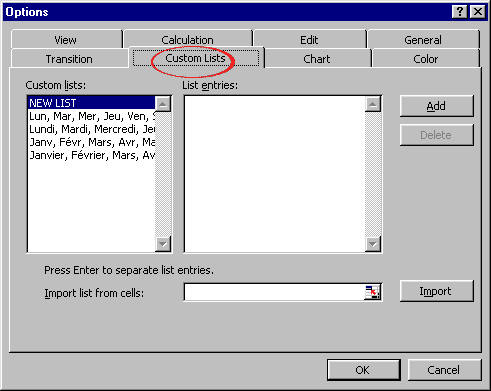 Options Excel, onglet "Chart"
English translation
You have asked to visit this site in English. For now, only the interface is translated, but not all the content yet.
If you want to help me in translations, your contribution is welcome. All you need to do is register on the site, and send me a message asking me to add you to the group of translators, which will give you the opportunity to translate the pages you want. A link at the bottom of each translated page indicates that you are the translator, and has a link to your profile.
Thank you in advance.
Document created the 26/04/2003, last modified the 26/10/2018
Source of the printed document:https://www.gaudry.be/en/excel-options.html
The infobrol is a personal site whose content is my sole responsibility. The text is available under CreativeCommons license (BY-NC-SA). More info on the terms of use and the author.